Portable Paint Sprayer Bu-800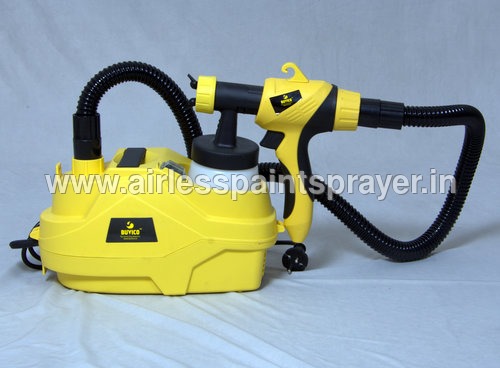 Portable Paint Sprayer Bu-800
Product Description
The Portable Paint Sprayers are the robust as well as simple to maintain products. These are highly popular with multi-unit as well as single-unit user alike. The products are generally accepted for their re-ability, speed and versatility of operation airless spraying. These serve as the best methods of applying anti-corrosive coatings, polyurethanes, high-build epoxies, including alkyds, chlorinated rubbers, decorative and protective materials. These are apt for both indoor as well as outdoor applications. These are the robust, simple to maintain products, which are extremely popular with multi-unit as well as single-unit users, similarly. These high quality and durable Portable Paint Sprayers are the optimum blend of dependability, versatility and speed of operation. These can be used to apply a wide ambit of single as well as plural component anti-corrosive coatings.


Portable Paint Sprayer Bu-800 Key Points:
1) Great for both DIY homeowners as well as professionals on account of their cost-efficient as well as high-speed performance. Recommended for home utilization due to their overall convenience. Come with compact designs that also contribute to their enhanced functionality.
2) Come with fully adjustable pressure that renders users with control over the project whether it's indoors or outdoors. Made of stainless steel and enable for high pressure spraying to attain the job done faster.
3) Great products for small to medium size projects and are rendered with few things to make the jobs simpler. Rendered with sturdy as well as durable metal construction. Resistant to light wear as well as tear without any problem.
4) Adaptable pressure enable for a great deal of control. Offered with a sturdy metal construction that can last for a long time. Offered with handles for boosted portability as well as enhanced serviceability.


Technical Description:
1) Type of Current ( V/Hz) : 220-240V / 50 Hz
2) Motor Power : 600 W / 0.8 HP
3) Operating Pressure : 2-3 Bar
4) Delivery Output : 240 ml / min
5) Hose Length : 1.5 M
6) Bowl Capacity : 700 ml
7) Net Weight : 3.8 Kgs