Paint & Wood Polish Sprayer BU 900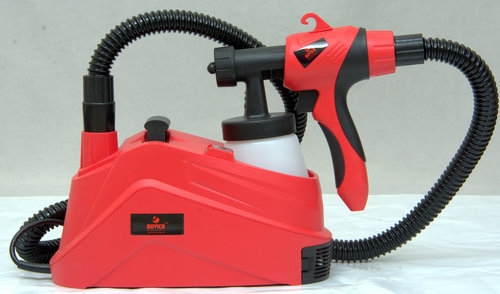 Paint & Wood Polish Sprayer BU 900
Product Description
Paint & Wood Polish Sprayers are rendered with quick as well as easy spraying operations. These come with simple one touch operation and enable users to paint the home on your own and can save a lot of the money. The simple one-touch operation of these products can cut the time as well as paint cost to half. These are offered with advanced spray technology that delivers one-coat as well as superior coverage. These eradicate the need for rollers, paint trays and brushes. These have convenient shoulder straps for simplicity of use as well as portability. Paint & Wood Polish Sprayers have powerful 650 watt turbine for rapid and effective paint applications. These are ultra-light as well as moveable products, capable to reach at tight corners as well as angles.


Paint & Wood Polish Sprayer BU 900 Key Points:
1) Offered with several components including the V packings, piston and spray valves. These move up making a vacuum to suck up the paint into a compartment, the fluid segment, and piston down to push the shade into a high-pressure hose.
2) These make a seal to preclude pressure losses during the painting process. These use self-adjusting V-packings to preclude premature wear as well as the need for repairs. These come with fluid section and prevent the paint from being driven back through the pick-up tube.
3) Best picks for professional painting contractors, who are looking for greater performance as well as control for daily use on, property maintenance, residential and commercial applications.
4) Made for contractors, to be employed every day on all residential, commercial and industrial applications. Render spraying performance in the compact as well as portable design making these flawless for light-duty projects such as decks, fences, and other painting ventures. Suited for DIY / Hobby user as well as small contractors.


Technical Description:
Type of Current ( V/Hz) : 220-240V / 50 Hz
Motor Power : 900 W / 1.2 HP
Operating Pressure : 3-4 Bar
Delivery Output : 280 ml / min
Hose Length : 1.5 M
Bowl Capacity : 800 ml
Net Weight : 3.8 Kgs